So from this point forward, I'm making my posts private for a couple of reasons. I will unlock them eventually, but…the truth is, I want this part to be my own. And Josh's, of course. It's such a personal journey and I want to share even this part with the world eventually, but for now, it's for my eyes only.
I'll get to the specifics but both reasons have to do with the fact that we went forward with the transfer. Holy hell. Which means I could be pregnant right MEOW.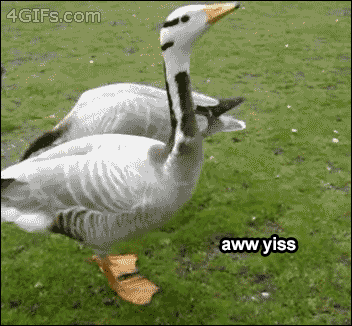 Don't ask me why I used this GIF. Just know it's my favorite GIF of all time and let's move on. Also, I have no idea who I'm talking to since I literally just said this post was private.
So YEAH. Let's back up. We learned on the Tuesday after our retrieval (Feb. 5) that all nine embryos were still looking good past day 3, which we were floored about.
But even then, we decided against the PGS testing (I covered the reasons why we might do that in my last post) and instead to do a fresh transfer this past Thursday, Feb. 7. Ack!
So we went to the clinic Thursday and learned that so far, four out of our nine embryos had made it to blastocyst stage and were good for transfer! YAY.
My doctor was very pleased. I thought he would pat me on the back but he did not. I think he patted Josh on the back or shook his hand, which…rude. I was RIGHT THERE. With no underwear on.
The bab we ended up transferring was a day 5 4BB blastocyst, and the lab froze two 2BBs and one 1BB. You can Google "embryo grading" to learn what all that means, but basically the higher the number, the bigger the blast. 1 is small/needs more time to grow, while 5 is almost hatching and I think 6 is already hatched? I think it varies by clinic.
But the letters are the more important part. The first letter reflects the part of the embryo that will become the fetus, while the second letter grades cells from the part that will become the placenta. I think. Or vice versa. I'm too tired to Google it right now, but the point is ours looked pretty good — A is the best, but B is great too.
And they told us they were going to keep an eye on the other five blasts over the next day to give them more time to develop, so our hopes were high.
Keep in mind none of this grading reflects the chromosomal normality/abnormality. That can only be determined via PGS testing, which we may actually end up doing with the frozen embryos depending on how this goes and a couple other things, but that's another post for another time.
So long story short, I basically experienced the pap smear from hell as the doctor threaded (IDK how to describe it less disgustingly) a catheter through my cervix and transported the little guy or gal up into my uterus. It was cool to see on the screen — a tiny white light in a sea of darkness. Kind of gave me a feeling of hope and made me forget six people were staring at my private areas.
Josh found the whole thing fascinating. The lab where they keep the embryos (right next to the exam room, for quick transport) is right next to a little door with a swinging window at the top with a shelf, like the kind grandmas put pies on in TV shows from the 1950s. He made a few jokes about that…later, when my feet weren't in sky-high stirrups. He ain't dumb.
So it went well and we took the rest of the day off. And then the next day, we got the call that not only did three more embryos make it to blastocyst stage, but all three of those are AA grade — the highest grade you can get, which made my control-freak self actually giddy. The sizes are great too: one 5AA and two 4AAs.
I almost cried on the phone when the lab lady told me. I still don't know what to call her. Embryologist? Queen? Savior? And she was so nice, breaking down all the sizes and letters for me so I can add them to my crazy-person bank of information. That made a grand total of seven embryos: six frozen, one transferred. Lucky seven. I find joy in this.
Over the past few days, I've been feeling a good bit of cramping in my lower abdomen, which…I know can point to implantation so I'm trying to stay positive, but it can also mean my period is coming. The cramps for my period usually don't start this early, but who the hell knows. Plus, I'm on those fun progesterone injections and I have no idea how those are affecting me, so it could be that too. I really am trying to be optimistic.
I have a blood test tomorrow to check on my progesterone levels, and then I believe they check for pregnancy five days later, so Monday the 18th. However…we will be testing for pregnancy with an at-home First Response Early Result test on Thursday night, which is Valentine's Day. Which means we'll either have the best or worst Valentine's Day ever — half the reason we are staying in and cooking dinner instead of going out.
Now, on to the two reasons I am keeping my posts private for the time being. One, I want to be able to announce the news that we are pregnant if we are, in fact, pregnant and not have a bunch of people already know, because that's no fun. We'll tell our close friends and family members but that's it.
And two, I told all my family in New Orleans — mom, dad, brother, sister-in-law, grandma — that we opted for the two-step transfer, a.k.a. the PGS testing and frozen embryo transfer come April or May. I LIED THROUGH MY TEETH. I need to remember to lie to my mom next week sometime about how many came back normal, but I did this because we're visiting for my birthday in mid March and I want to be able to tell them in person.
It's going to be really hard to keep this secret for a month if I do end up being pregnant. But I think back to how overjoyed my mom was the first time and then how heartbroken she was when I miscarried, and I don't want to put her through that. By then, we'll have been able to see a heartbeat, and I'll feel much more comfortable telling her.
The next time I write, I will know one way or another if this worked. Keeping all the fingers and toes crossed.