Sometimes I make up asinine songs about mundane things in life, especially if I'm nervous about said mundane thing and especially if everyone else around me seems to be perfectly sane about it.
Example: I hate flying. Well, not flying itself, but turbulence, even the slightest bit. No matter how many statistics I read about how safe flying is, all the "You're 239123819x more likely to die in a car accident!" comments do is make more more scared to get in a car. Yes, I know turbulence is like a pothole in the air, but if growing up in Mid-City New Orleans didn't ensure me mental-anguish immunity based on that analogy, some dude's blog is not going to.
Anyway, this is that song, because I know you're dying to hear/read it. I wrote half of it on a plane in May 2017 and half this past November, after dropping an ex-friend off at the airport after a visit that ended up turning into a disaster proving I should've followed my gut and we should've stayed not friends. (Silver lining: It got me the rest of the way in the lyrics to this masterpiece.)
Sung to the tune of "Under the Sea" from The Little Mermaid:
The stratus is always whiter
When you're high up in the sky
You dream about going farther
To do that, you got to fly
Just look at this space around you
Right here on this Boeing plane
How you going to store your luggage
A way that will keep you sane?
Under the seat, under the seat
Darling it's better, when you're a jetter
Keeps your bags neat
They won't tumble in overhead bin
When you're knocking back your third gin*
It's very small now, don't try to crawl down
Under the seat
*I was, in fact, on my third gin when I wrote this line (not during the aforementioned drive, wow, I'm not an animal)
"None of this has a damn thing to do with IVF, Jen," I KNOW, I'm getting there. Look, all this to say I started making up another song about ovarian follicles to the tune of "Particle Man" by They Might Be Giants and I just wanted to tell you it's a work in progress. But now that I write this, I realize I just wasted so much time and maybe I'm just that damn proud of my booze-infused flying song.
OK. Follicles. So I had my second post-stim scan and blood work today and everything is looking extremely…decent. The nurse told me my blood work looks good, and I have about 10ish measurable follicles — 5 on each side — and maybe a couple more little ones hiding up in there. I'm staying on the 300 IU of Gonal-F (the stim shot) every night, and I have my next scan Monday morning at 8:30. I also need to start taking Cetrotide every morning starting tomorrow, which is the shot that will keep me from prematurely ovulating. And yes, I want to write "ejaculating" every damn time but I haven't yet, ha HA.
I'd be lying if I said I wasn't starting to get anxious. I think a part of me hoped there'd be a whole host of follicles that would forget I'm such a wound-up B and once I pumped my body with more drugs than the entirety of Daytona Beach has ever seen they'd be like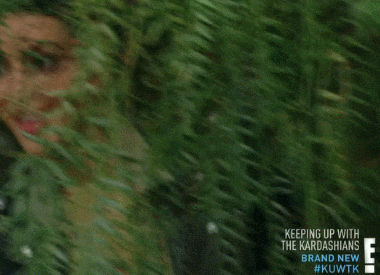 No such luck. But my doctor isn't upping my meds, so I'm taking that as a good sign.
There is still the potential for a miracle to happen, so until Monday, I will hope for a miracle — and in the meantime, work on being thankful that I have what I do have.